Whispering Pines RV & Tent Park
Establishment, campground, lodging, park and rv park at 11 Hamilton Road, Mara, BC V0E 2K0, Canada. Here you will find detailed information about Whispering Pines RV & Tent Park: address, phone, fax, opening hours, customer reviews, photos, directions and more.
Rating
5 /5
Based on 5 reviews
Photos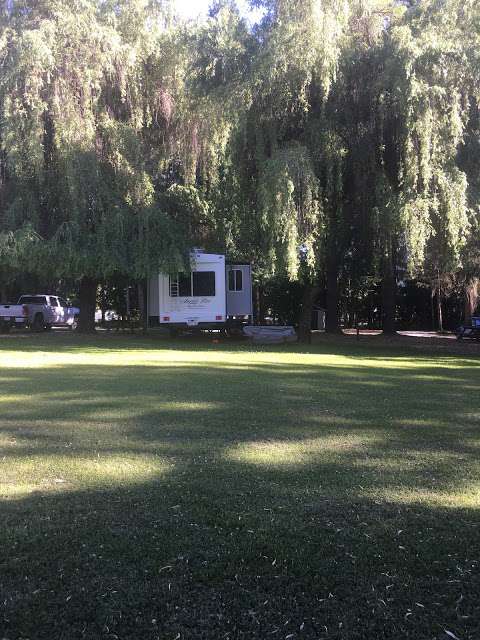 Reviews of Whispering Pines RV & Tent Park
Andrew Hamoy Added 2018-10-18

★ ★ ★ ★ ★

We had a great relaxing experience at this RV and tent camp site last week. The owners Barry & Karen we're really nice and very accommodating. It was very kind of them for letting us use a private fire pit area close to their fifth wheel that we stayed for three nights. The sounds of the flowing creek behind our site was just so refreshing and truly was an amazing experience to be in touch with nature. The location was just perfect for where we wanted to go close to Kelowna, Salmon Arm & Sicamous with all the nice sceneries, local shops & restaurants that we enjoyed our time while in that area. The kids really enjoyed the tractor ride and heated pool off course. Our huge thumbs up if you want to stay on this camp site.

rob kroetsch Added 2018-10-15

★ ★ ★ ★ ★

Great place. Staff super friendly and accommodating. Sites clean and well looked after. A lot of free things to do with everyone. Pool kept very clean and the washrooms and showers were fantastic. Will be a yearly visit for sure.

Carly Strutt Added 2018-10-14

★ ★ ★ ★ ★

Been going to this campsite since I was a wee child. It's so fun! lots of things for children: they have a pool with a slide, a free tractor ride every night, and the owners are so friendly!

Chris Dolezal Added 2018-09-21

★ ★ ★ ★ ★

We had a great time staying there. A lot of great amenities: pool, showers, mini golf, tractor rides, scavenger hunt, all included with the price. Super friendly owners that are very helpful. Some of the lots near the road can be noisy. Wood is a bit pricey. Kids had a great time there.

Kyle Hanus Added 2018-08-12

★ ★ ★ ★ ★

The onwers seemed to go out of there to make sure everything was perfect for our stay. Very friendly. Campground it self was well maintained with a variety of spots depending on what your camping in.
About whisperingpinesrv.com
Share this page
Additional actions
Today's weather in Mara
04:00
1 ℃ 1030 hPa 85 % 0 m/s 07:00
0 ℃ 1032 hPa 87 % 0 m/s 10:00
-1 ℃ 1034 hPa 85 % 1 m/s 13:00
6 ℃ 1032 hPa 56 % 1 m/s 16:00
8 ℃ 1031 hPa 49 % 1 m/s 19:00
5 ℃ 1031 hPa 63 % 1 m/s 22:00
1 ℃ 1033 hPa 76 % 1 m/s